An Alternate Approach for Optimising Acquisition Journeys
Posted: 25/09/2020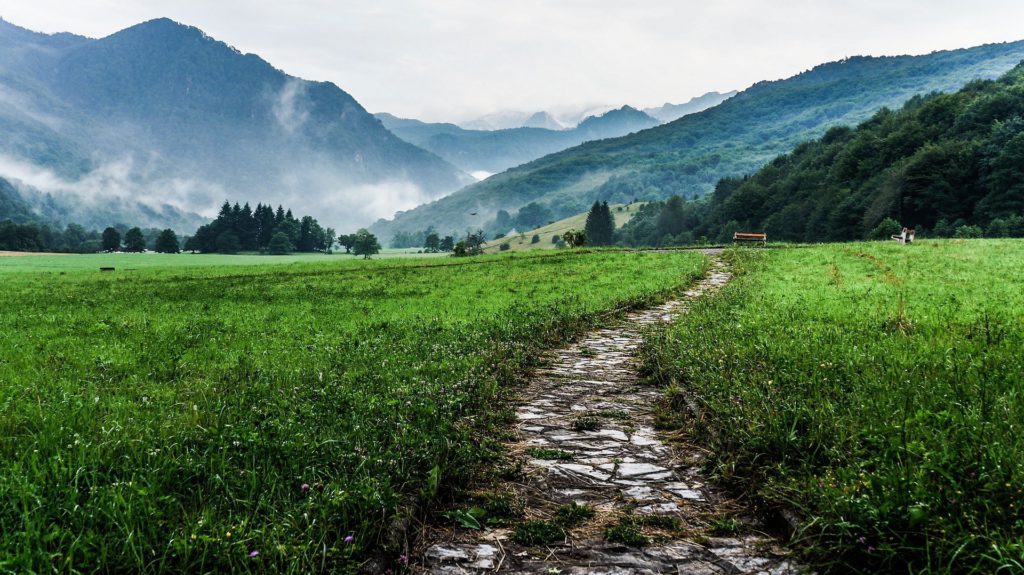 The following Buzz is drawn from our winning submission published as part of the the Market Research Society Awards, made jointly with British Gas (BG). BG wanted to overhaul its HomeCare online acquisition journey to improve sales and customer experience. Using a replica of the real-world journey we tested different variants and identified the winning designs. Once implemented, the changes raised BG's conversion rate 12%, more than double the original 5% target.
---
British Gas' HomeCare division is a market leading insurance provider that offers products such as boiler breakdown cover and emergency plumbing repairs. BG wanted to overhaul its proposition design and customer acquisition journey both to increase conversion rates and improve the customer experience. Specifically, they faced four inter-related challenges:
Simplification: Between add-ons, excess levels, and other features there were 126 different product configurations spread over two existing purchase journeys. BG wanted to understand how to architect all this choice into an optimal range of alternate packages.
Frictionless Flow: The existing digital acquisition journey was relatively complicated with numerous screens. BG had various ideas for changing the order and number of decisions encountered that they wanted to test.
The Flexibility Paradox: BG found in qualitative research that people said they preferred more choice. But, in practice, people were also time-poor and disengaged. BG needed to explore the right balance between customisation and ease of purchase.
Outcome Trade-offs:The main goal was to increase price point, conversion and, thereby, sales. But, from a regulatory perspective, it was also important to improve customer experience and outcomes.
The best approach for resolving these questions is to try them out in practice. As we've discussed in previous posts, randomised controlled trials (RCTs) are the gold standard, and our Behaviourlab method allows a client to undertake such trials within a clean-room, zero-risk, low-cost environment with quick turnaround. So we replicated the proposed acquisition journeys to test directly the impact of their different design strategies.
Figure 1: Journey Details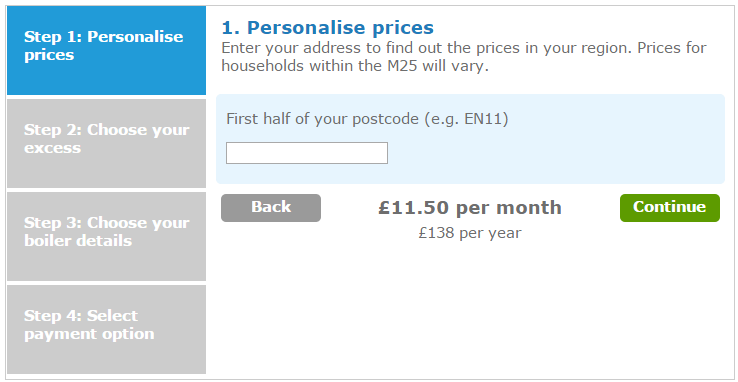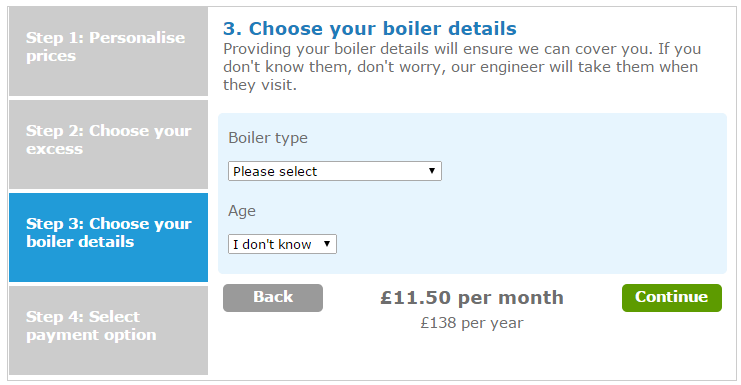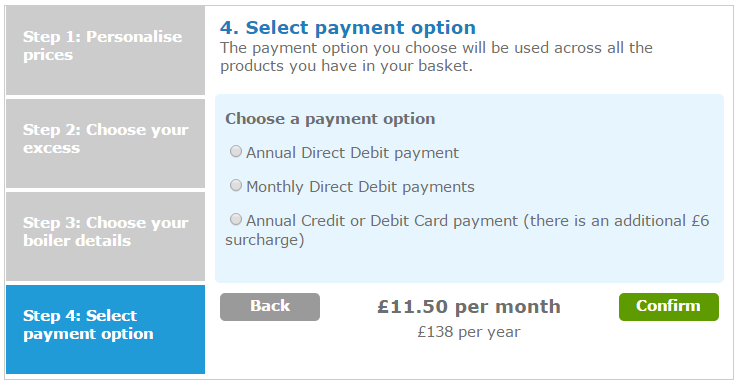 The graphic shows four main screens of one example journey that was tested. Overall, the experiment involved testing 5 different journey types like this, alongside 12 different proposition architectures and 15 other design changes. 3,500 paid participants completed one of these journeys drawn at random. For each participant we captured outcomes of interest, such as product and add-on selections, spend, purchase likelihood, process perceptions and product terms.
Statistical modelling of the experimental data identified the statistically significant effects, forecast the impacts of different journey designs, and helped BG identify the best design features. For example, the work showed that:
One of BG's two existing purchase journeys was inferior in terms of spend and purchase likelihood and therefore could be removed from their website immediately.
Contrary to prior qualitative research, offering the flexibility to build your own package resulted in both lower spend and product take-up. Ease of purchase trumps customisation.
However, some flexibility such as tailored excess levels was beneficial, particularly when repositioned to improve clarity, reduce perceived friction, and thus boost purchase likelihood.
Although offering optional add-ons increased friction, add-ons had relatively little negative impact on purchase likelihood whilst increasing spend and customer satisfaction.
As a result of the research British Gas devised and launched their "Simply HomeCare" range. This had a large and immediate impact on sales, with online conversion rates increasing 12%. This was more than double the original 5% target. Meanwhile, journey NPS increased from +9 to +24 reassuring the regulator that beneficial customer experience and outcomes were delivered.
Join the Mailing List below if you would like to find out more.
Back to blog